Wire Rod Export Price | Import Steel Wire Rod from Turkey
Today Steel Wire Rod Prices
Hammad Steel Industries is an Exporter and Supplier of Superior Quality Steel Wire Rod. We are Supplying Steel Wire Rod from Turkey to Worldwide Destinations Mainly in Africa and Indian Ocean Islands. Hammad Steel offers Steel Wire Rod with Wide Range of Standards and Specifications conforming to the customers' needs and purpose for use in Welding Electrode, Steel Mesh, Wire, Bolts, Spring, Cutting Machine use and Cut to Bend Sizes.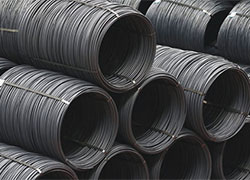 Steel Wire Rod Price
We are offering Lowest Steel Wire Rod Prices for Containerized Shipments from Turkey.
Price: USD 630.00 PMT FOB Istanbul – Turkey