Specifications | Sizes | Packaging
Steel Rebar Supplier
We are Leading Exporter and Supplier of High Quality Steel Rebar with Competitive Price. Hammad Steel is the mostly admired partner of Steel Rebar Importers Worldwide specifically in Africa and Indian Ocean Islands. We are recognized by International Consultants for their infrastructure needs in the developing countries of the world.
Steel Rebar or Steel Reinforcing Bar is a common Steel Bar that is Hot Rolled and is used widely in the Construction industry, especially for Concrete Reinforcement. Steel Rebar is most commonly used as a tensioning device to Reinforce Concrete and other Masonry Structures to help hold the Concrete in a compressed state. Concrete is a material that is very Strong in compression, but virtually without strength in tension. To compensate for this imbalance in a concrete slabs behavior, Reinforcement Bar is cast into it to carry the tensile loads.
Steel Rebar Standards, Grades and Specifications
Hammad Steel offers Steel Rebar with Several International Standards, Grades and Specifications which are given below:
* For Complete Standard Specifications of Steel Rebar, please CLICK the required Standard.
Steel Rebar Sizes
Steel Rebar size is another decisive factor when creating shop drawings for a structure or a building. Two conventions are being used by Hammad Steel for Rebar Sizes – Imperial sizes and Metric Sizes. Imperial Bar method (USA convention) represents Rebar diameter in fractions of 1/8 Inch, such that #8 = 8/8 inch = 1 inch diameter. Metric Bar method (Canadian convention) represents the Rebar diameter in Millimeters, rounded to the nearest 5 mm. Steel Rebar Sizes available in Metric Bar method are from 6MM up to 40MM.
We Stock a Wide Variety of Steel Rebar Sizes which Diameter starts from 6 MM up to 40 MM.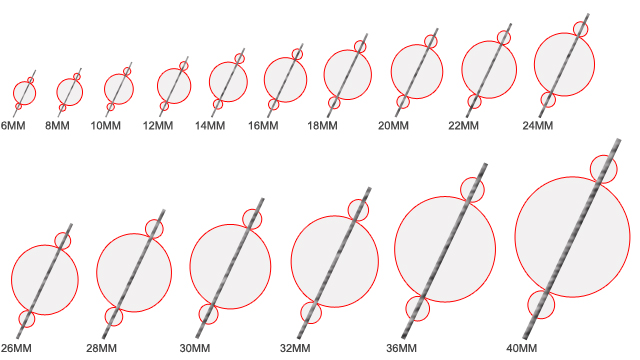 * For Complete Steel Rebar Size Range, Please Click Here
Steel Rebar Packaging
Hammad Steel can be arranged Three Form of Packaging for the Shipments of Steel Rebar in 20'FT and 40'FT Containers.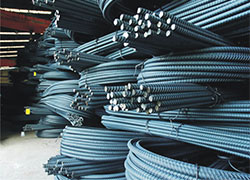 U Shaped Folded Steel Rebar Bundles weighing up to 2 Metric Tons and Lengths ranging from 12 Meters up to 24 Meters.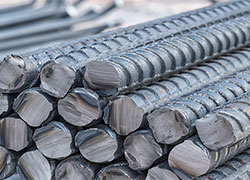 Unfolded or Straight Steel Rebar Bundles weighing up to 2 Metric Tons and Lengths ranging from 6 Meters up to 24 Meters.
Related Products
Steel Rebar
Steel Wire Rod
Steel Billet
Steel Beam
Steel Channel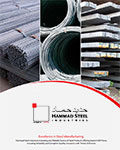 Download Profile